Cresta, the creative standards organisation has announced the winners of its 2021 awards show. This year the organization handed out 12 Grand Prix honors, more than ever before.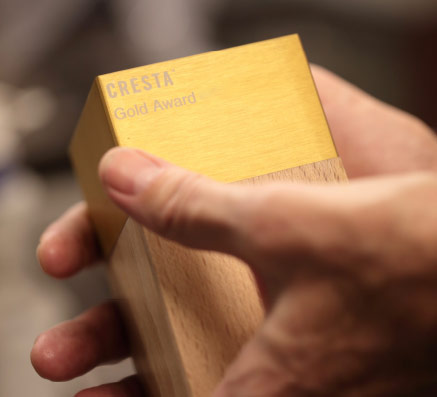 Havas Middle East broke through with its first Grand Prix thanks to the much-talked-about 'Liquid Billboard' installation for Adidas.
Meanwhile, Dentsu Tokyo has won a Gold for Long Term Creativity. The 'Get Back, Tohoku' campaign was a breakthrough for the new category for the railway, Tohoku Shinkansen.
Tencent, from Shenzhen, marked a massive breakthrough for both China and in-house creative teams. The giant internet and tech company took two Golds, five Silvers, and eight Bronze awards.
American and German agencies led the way in taking the Grand Prix. Indiana Productions and Riff Raff Films headed up a high-quality field of production wins with both taking double Grand Prix.
BBDO Germany is the only agency in the world to have been awarded two Grand Prix, and also won three Gold awards and three Silver. Its most awarded work was a campaign for WWF Germany that developed a wide-ranging global environmental campaign.
The New York offices of 72andSunny and BBDO both picked up Grand Prix, while FCB Chicago took the top award to put the USA out front at the top level.
Serviceplan Group of Munich took the biggest overall haul of awards of any agency, with five Gold, eight Silver and nine Bronze awards. Four of those Golds also went to an environmental campaign, the 'Meltdown Flags' work for the Meter Group.
Nord DDB of Stockholm was the second most-awarded agency with five Gold, five Silver, and five Bronze awards, achieved by its work for VAR Electronics and McDonald's.
"We saw many terrific entries battling it out at the top of the judging this year. Despite this being after more than a year of the pandemic — or perhaps because of it — there's a real range of fresh innovation and a great depth of feeling in so much of the work that has impressed the jury," said Cresta President Alan Page.
While the 120-strong jury handed out more Grand Prix, overall there were fewer honors given.
"We encourage our jury to go with their expert opinion. This year there seems to have been a general tendency to be confident in identifying and backing the very best work, while across the board they were consistent and firm in not giving out any soft marks. There was a real focus on finding the stand out entries," said Cresta CE0 Lewis Blackwell.
About Cresta:
Cresta is the Creative Standards organisation, showcasing and benchmarking exceptional creativity since 1993. It is one of the world's most prestigious creative accolades. The annual online festival attracts work from over 70 countries, and from many of the global industry's most respected creative companies. Entries cover a wide range of skills; from the very latest digital and technology-based creative communications to more traditional areas in advertising and design.
Each year a carefully chosen world-class jury of more than 120 senior industry leaders votes independently online to establish benchmarks for global creative standards. From these individual assessments we establish the absolute levels of creativity required to win one of the coveted trophies – a Bronze, Silver, Gold or Grand Prix Cresta. Unlike some awards, Cresta have always eschewed lavish events and unnecessary international travel. Cresta were one of the first fully online festivals preferring to deliver tangible long-term value in return for ones investment in creativity.
Cresta is committed to accessible entry fees, fair and top-rated judging of your work, tailored post-awards publicity and editorial, global and regional rankings, and to providing an international benchmark that will attract clients and the best staff. Anything, in fact, that promotes the importance of your creative standards in effective marketing communications.
Cresta exists to:
Inspire, recognise and reward the highest standards of creativity
Champion the positive contribution creativity can bring to society
Promote the value of maintaining high creative standards
          And build a community for whom creativity is a way of life
Since 2018 Cresta has been managed by a team with outstanding creative pedigrees.
Lewis Blackwell, CEO, was previously SVP/Creative Director of Getty Images and editor/publisher of Creative Review.
Alan Page, President, is a multi-award winning creative director and copywriter who, most recently, worked at the cutting edge of digital developments.